Tips on Sharing a Room With Your London Flatmate
by Fam
29 March 2013
0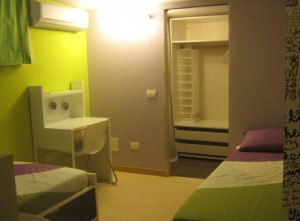 Sharing a room for the first time can often be overwhelming and intimidating.  Whether it is a best friend or acquaintance, there are ways to compromise and make your living situation a breeze with your London flatmate. Circumstances can often make sharing a room more difficult.  Factors such as lack of space and or privacy can often put an unnecessary damper between your relationship.  Stress no more, we've researched a few tips and tricks to create the best possible environment.
Sharing a room with a flatmate is different than sharing with a sibling.  As an adult, keep in mind that etiquette is an important key for successful communication between you and your flatmate.  The first few weeks are a crucial time period to get to know your flatmate.  Understand their beliefs, morals, concerns, values and who they are.  Do not be afraid to really get to know them on a personal level, it will not only make them feel more comfortable with yourself, but you will better understand them as a person.
Communication, communication, communication.  How often do you hear that phrase?  Being able to speak to your London flatmate clearly and effectively will ensure a strong relationship and a positive living environment.  If you are shy, put down that barrier by planning an outing with your flatmate, it's a great way to not only have fun, but break the ice.  The better you know them, the more comfortable you will become.  Establish feedback, expectations and boundaries; the rest is smooth sailing.
Finally, have fun! A flatmate experience is a memory that lasts a lifetime! You may become best friends, you may end up forgetting about each other 20 years down the road.  The point is, enjoy the moments, keep an open mind and learn from each other.  People come from all walks of life, exposing yourself to a variety of people will make you an overall well rounded person and a great roommate in London.