Moving Checklist: Moving Out of a House With Restricted Access
by Fam
19 February 2014
0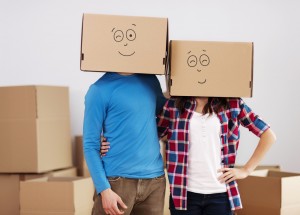 We've all come across the occasional property that is hard to get to. Some will remember their efforts in getting to a friend's perilously located flat on a weekend evening, while others recall the narrow driveway of their first home as it sprawled out down a steep hill.
Circumstances can be cruel, and moving day is a frustrating challenge for those trying to get away from awkwardly placed properties. The two most common forms of restriction are landscape and narrowness of access. Our discussion from here onwards concerns how to deal with any potential difficulty across a brief moving checklist, established with each of the following subtitles.
Pt I – Landscape Restrictions
STOP ONCE OR TWICE WHEN CARRYING OBJECTS
Landscape restrictions typically involve pedestrian-only pathways, often exposed to wet weather, and hazards posed by steep hills and cliff-faces. In the case of pathways made for walking exclusively, it is worth noting that most of these access routes are long and usually unpaved. This means that you must be extra vigilant in prolonging their firm grip of an object before arriving at the removal van. Even with the help of many people, moving heavy furniture can be tricky. In this case, agree unanimously that one or two stops along the way is the best approach, and always bend at the knees. Don't try to be the hero and wing your way across a long pathway in one go. Chances are you will put your back out doing so and therefore slow the rest of the day onwards.
PREPARE FOOD AND DRINK IN ADVANCE
Planning in advance is crucial for anyone with restricted access to their property. Even before you book the desired moving company, make sure friends and neighbours are available on the day of the move as their contributions will come in handy. Prepare energy-filled snacks in advance and have them readily available in a specific place. Have tea and coffee at hand too whilst using a Thermos to ensure that the coffee remains warm as you won't be able to refill it very often.
REMOVE HAZARDS
As for the pathway itself, make sure you spend time clearing any hazards or obstructions prior to moving anything. Use a rake to shift excess foliage and scattered debris and instruct children to stay away from the area by informing the neighbours in advance.
ESTABLISH IN ADVANCE WHICH TOOLS AND MEANS ARE NEEDED
When approaching the pathway, both literally and otherwise, make sure that all on hand tools have been taken into account. Removal vans will obviously come with trolleys and other means of easy portability. This said however, your long pathway with patchy grass underfoot won't exactly compliment a set of wheels, so look into further options if necessary. Hire a trolley with large all-terrain wheels, yet avoid anything like a trailer as chances are that it will be too wide for the pathway and also difficult to lift should you attempt to drag it by hand, even with assistance.
UTILISE THINGS YOU WOULDN'T THINK TO USE AT ALL
If you are moving over winter, prepare for a wet pathway as rain is always likely. Use what means you and your helpers have to prevent any injuries and maximise efficiency. If anyone willing to help on the day has a pair of old football boots, then encourage they wear them on the day to increase friction on the pathway as they shift items. Likewise, encourage they wear a rain coat with ample padding for both warmth and protection from such things as a chest of drawers pressing against one's chest during transition.
Pt II – Narrowness of Access
Narrowness of access is the second point of difficulty. Even a smooth and flawless driveway may be narrow, at least for the all important removals van. In helping out those who need assistance the most, we ought to suppose hypothetically that any narrow driveway is also long, steep and has a fence. So here the challenge is to defy gravity and sustain motivation to do so for the best part of the day. So the van itself cannot go to the bottom of the driveway. We might further suppose that there's no cable car or lift on site either. So what should you do?
USE YOUR OWN CAR AS MUCH AS YOU CAN
Your own small car may suffice in moving smaller boxes stuffed into the boot, yet larger objects may protrude out of the car and therefore scrape the driveway's fences. Regardless, utilise you car to move all small items, only do this last so the small items are easier to retrieve from the removal van once you've arrived at your new house.
MAKE THE MOST OF ALL AVAILABLE SAFE TROLLEYS
For larger items, be sure to acquire half a dozen dollies and double handle platform trolleys in advance, ideally those that can cope with up to 250kg. Make sure the trolleys have waist or chest height handles, for getting that necessary push against the gravity. Always ascend the driveway in pairs, as one pushes and one monitor, with the latter being mindful of the weight placed on the trolley and that everything contained is secure.
Think of the day as a list of brief but specific things to remember, from old football boots to heavy duty platform trolleys. With this moving checklist, and a prior acknowledgement of obstacles no time will be wasted devising solutions on the day.
More tips read here