How To Make Your London Flat Environmentally Friendly
by Fam
26 April 2013
0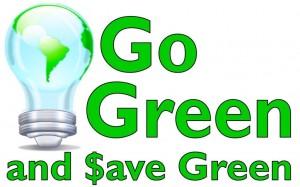 In honor of Earth Day, we've dedicated this article to making your London flat a little greener! "Going Green" and its initiatives has been growing mass popularity as humans begin to understand the importance of being environmentally friendly and its vital effects on our planet Earth.  People living longer and more construction popping up like crazy, more and more chemicals and toxins are emitted into our atmosphere by the minute.  By checking out these "green tips" you can help play a part in keeping our Earth and your London flat a pleasant place to live in:
Recycle
Does your London flat building utilize recycling services? If the answer is no, ask your landlord for a recycling bin and or find the nearest recycling center.  Recycling is perhaps the easiest way practice being environmentally friendly.
Energy Saving Light Bulbs
Eco-friendly light bulbs can cut the cost of energy by 75-80% in addition to their lifespan. They are a tad more expensive, however they are an investment and will make a difference in the end!
Green Cleaning Products
Many generic cleaning products can and are harmful for the air and our well being.  Breathing in these products can often cause harm to our respiratory system.  Switching over to green products are just as effective for cleaning but are environmentally friendly at the same time.
Save Electricity
It is easy for us to forget to turn the lights off or unplug appliances which aren't in use.  However, every plug counts when it comes to racking up that electricity bill for your London flat.  If you aren't using that flatiron, be sure to unplug it.  The toaster oven doesn't always need to be plugged in.  Encourage your London flatmates to do the same!