How to Decorate Your London Flat with a Flatmate
by Fam
30 April 2013
0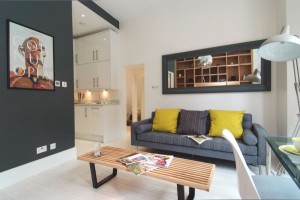 Decorating your London flat should be an exciting project; however sometimes having a flatmate might make it difficult to do so with conflicting opinions. One flatmate might like the color pink while the other hates it. However, it is important to note that decorating can be a group effort and working with a team will make efforts more efficient and both parties can be pleased.
Check out these tips on how to work with flatmate on decorating your flat:
Decide What to Keep and What to Lose
You won't be living with a flatmate forever. Chances are, you own pieces of furniture that you'll need for your next living space. Talk to your flatmate about what pieces of furniture they want to bring.
Learn To Compromise
Learning to compromise will not only strengthen your flatmate relationship, it will strengthen other friendships and work relationships. If you try to dominate the decorating, your flatmate might resent you.
Shop Together
When you go out together in search of home décor, you'll get a better feel of what your flatmate's decorating style is. You can show them what you like and they can show you what they're into; chances are, you will agree on some elements of design.
Make a Team Effort to Reduce Clutter
The best way to maximize your apartment décor is to ensure that your public spaces are tidy and maintained. Communicate to your roommate that cleanliness is important to you, and that you should both do your parts to make your flat look fabulous.