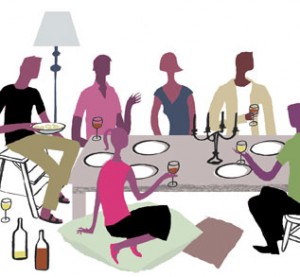 You've settled into your new London flat, what better way to show a little "warmth to your house" than by hosting a dinner party of course! Good food, good drinks and good people, what could be better? Often people associate hosting parties to be stressful.  However with the right planning and organizing you can hold a stress free dinner party in your flat, everyone will be raving about for days!
Follow these simple steps for a successful event in your London flat:
First and foremost relax.  Going in with a stressful mindset will make you confused and distracted.  The purpose of this is to have fun and relax.  Avoid procrastinating, no one likes leaving tasks till the last minute.
Make sure to add a variety of groups into the mix.  For example, avoid inviting solely your work friends, this would only mean that work would be the main discussion of the night, boring! Send out invitations a few weeks ahead of time to ensure RSVP's in a timely manner.
Plan the menu ahead of time
Make a list of the food and drinks you wish to serve.  That way you can focus on preparing the meals the day of or a few days before.  Keep in mind any dietary constraints with your guests; gluten free, lactose intolerance, etc.
Keep your dishes simple and stress free.  Chicken salads, pizza and burgers are easy to make and relatively less time consuming than extravagant dishes.  However, if you're a master chef and can cook in your sleep, by all means go ahead!2.
The day has finally arrived! You've worked hard to plan the party, you deserve to relax and enjoy your company!