Latest figures from 2011 Census show there are 100 different spoken languages across the UK and of 56.1 million residents of England, 40% of people say English is not their mother tongue.
London has the greatest number of migrants among all regions, there are 2.8 million foreign-born people in 2012, 40% of Inner London's population.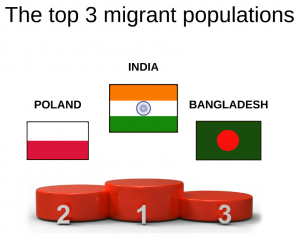 35.9% of people in London was born abroad and one in five have a main language which is not English.
3.4% of the London population was born in India.
Immigrants from Poland are 1.7% of London inhabitants, followed by 1.6% of Bengals.
The number of people born outside the UK varies greatly by London boroughs. This map reveals the First Largest Immigrant Population by country of birth (2012) in London.